Franklin Cummings Tech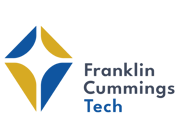 A successful rebrand comprised of customized "teasers" to tailored audiences through pre-established communication channels, culminating in a one-size-fits-all message that directed all audiences to a single "Launch Day" announcement.
After 114 years of delivering hands-on trade and technical education to students across Greater Boston, the Benjamin Franklin Cummings Institute of Technology initiated a rebrand to position the school for its bright future on a new campus with new leadership, and updated programming designed to meet the evolving needs of 21st century technical careers in electric vehicles, automation, biotech, and others.
Through close collaboration with a marketing firm that developed a new name, logo, and mission statement for the college; Denterlein worked to message, tease and launch the new rebrand to diverse audiences to reintroduce the school as Franklin Cummings Tech.
The strategy of the rebrand was structured over a 30-day period in the lead up to "launch day," when the rebrand would go public and the name would be official.
Over the 30 days, the school's various audiences were identified, categorized, and prioritized in terms of when they would first be "teased" of the new announcement, all building up to a formal announcement that would reveal the new name, logo, and mission of the school. Audiences included faculty and staff, students, donors, alumni, elected officials, media, and the general public.
When first "teasing" and then announcing the school's rebrand to the various audiences, the tactic was to embed the new messaging into pre-existing communications these audiences already receive from the college – All staff meetings, back-to-school announcements, newsletter updates, and social media were all utilized to first alert the prioritized audiences. As each audience became aware, they acted as brand ambassadors to the next audience. Because all audiences were appropriately "teased" or alerted of the upcoming announcement, Launch Day consisted of a singular message from the President that was shared with all audiences simultaneously and linked back to a launch page on the website, which was synchronized with updated branding materials on the website, social media, and merchandise.
The decision to have one "receptacle" of information – a message from the president that linked to a launch page on the website – ensured that all audiences received the same and consistent message from the school.
The result of a successful rebrand included a multitude of brand ambassadors from the faculty and staff, students, and donors of the school. School leadership received personalized congratulations from across sectors and industries of the state. Media coverage included quotes from the school pulled from the message from the president and launch page, and helped spread the message to the larger public and new audiences.
Now known as Franklin Cummings Tech (FC Tech for short), all school mentions and communications ensured that the new name would be used to convey the bright future of the school.