The Covid-19 pandemic has shifted the media landscape in more ways than one. News about the virus and its societal impacts first took place in the publishing lineup. Beat reporters that usually focus on other areas have been pulled away to cover testing site deployment and vaccine rollout.
Despite these hurdles, there have been many moments where other news has broken through. A great example of this is from the transportation advocacy community, who have not given up on engaging reporters to make their voices heard. We reached out to several transportation advocacy organizations who hosted pandemic-era press conferences to get an understanding of what worked, what was complicated, and offer lessons to all fields about how we approach press conferences during a pandemic – and moving forward.
Create a Memorable Moment
Not all in-person events were cancelled due to the pandemic. In fact, the in-person nature of advocacy events brought a new sense of urgency to the message. If we are willing to be here in person, during a global pandemic, this cause must be considered critical.
That was the message the Transit is Essential coalition brought to a press conference at the State Transportation Building, sounding the alarm on the impending MBTA service cuts.
To grab the attention of the local press, the coalition performed a "reverse ribbon cutting", slicing a cardboard bus in half for media to capture. This visual prop – cheeky, creative, memorable – was important for building virality around a serious message.

To complement the press conference, the coalition disbursed "roving reporters" to different T stops to interview riders about the critical role public transit plays in their lives. The coalition posted these stories on social media, underscoring their press conference message about the impact that public transit cuts have on real people, especially during a pandemic.
Lift Up Multiple Perspectives
Virtual events provide an opportunity to bring together voices that might not have been possible if everyone had to be physically present. For the Public Transit Public Good coalition, that has meant inviting a wide range of transit riders and operators to tell their stories about how MBTA cuts would hurt their ability to get around or threaten their jobs.
Leveraging multiple social channels and convening online allowed more people to share their real stories, lifting up the voices of people deeply impacted by the issue at hand. For example, the Stop MBTA Cuts Press Conference in December 2020 featured speakers on Zoom interacting with people on the ground. This was the first time many folks have spoken at a public event, and it was crucial to work with them ahead of time to make them feel comfortable and prepared. The communications team worked with them individually in advance to turn their powerful, authentic stories into media-friendly soundbites.
Create an Eye-Catching Visual Backdrop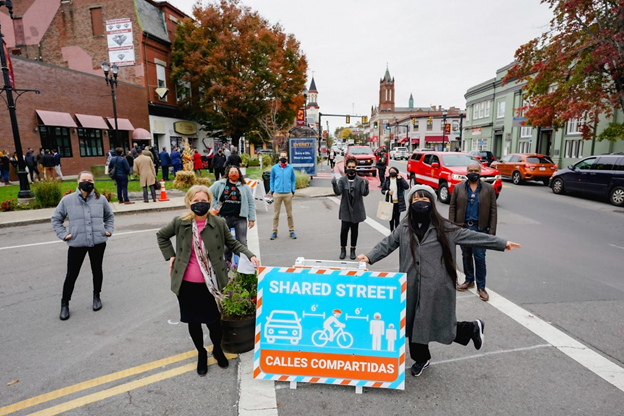 In October 2020, a team that included city, state, and community-based partners, led by BostonBRT, held an in-person press conference in Everett, MA, to reveal its Reimagine Broadway effort. Weeks of logistics coordination around audio-visual needs, physical distance markers, inclement weather accommodations, and run of show paid off. Five TV stations and one radio station came to cover the live briefing and view the neighborhood transportation improvements, including shared streets, a new Sweetser Circle dedicated bus lane, wayfinding signs, and more.
While it lacked some of what the BostonBRT team typically does for in-person events – refreshments, activations, performances – the press conference maintained a hyper visual element for media to capture with a well-adorned bus stop and shared streets signage along Broadway. Similarly, the team's collective organic efforts on social media gave a real-time viewing for those who were not able to join in-person through Facebook Livestream hosted by the Mayor of Everett and via the BostonBRT Twitter account.
"After many months of isolation, it was particularly thrilling to be able to organize an in-person press conference, celebrating the launch of our project, even if it might be considered dialed-down by pre-COVID standards," said Julia Wallerce, Boston Program Manager for the Institute for Transportation and Development Policy.
Offer Reporters Materials in Advance
Just a few months into the shutdown, TransitMatters had to rethink its plans for releasing its regional rail recommendations. Instead of an in-person press conference, they held a virtual press conference featuring Executive Director Jarred Johnson, who delivered a PowerPoint overview of the report and answered reporter questions.
Denterlein assisted in developing media-facing materials including media pitches, a press release, and designing the press conference presentation. This was a huge help to the otherwise time-crunched nonprofit, reflected Johnson, because it allowed them to focus internally on non-communications aspects of their advocacy efforts.
The content being revealed at the press conference, the Regional Rail Phase 1 report, required in-depth understanding of nuances of rail planning and operations. The complexity of the work, combined with the fact that reporters are increasingly under a time crunch to deliver digital stories and unique news, led the team to provide the press materials and rail report to reporters in advance of the virtual press conference. The team also hosted interviews several days ahead of the event, which led to greater media understanding of TransitMatters' recommendations to modernize the Greater Boston rail network.
Plan for Hybrid Events in 2021
As more of life begins to happen in-person, how should we be thinking about press conferences and other engagement events within our communities?
With so much uncertainty and potential next waves of the pandemic, event planners should continue to focus on the hybrid model: use digital and virtual platforms to complement in-person events. It helps not only give access to a wider audience, including reporters, but can help ensure you are not left scrambling due to last-minute public safety or even inclement weather issues.
"All of the elements of our project were planned to be 'lockdown proof' in the sense that, should we be forced into another mandatory stay-at-home order, we would still be able to deliver on them," Wallerce added. "While this was limiting in a sense, it also served to strengthen the solidity of the project overall."
The success of these press conferences offers lessons to all media relations professionals seeking coverage, regardless of industry.
by OurMove, a campaign to transform the way people talk about transportation in Massachusetts.