Sunday was the Super Bowl, where America celebrates the final game of the football season with a joyful combination of entertainment, friends, and food. Every year, the leadup to the Big Game is another week of predictions, halftime show buzz, and debates around which advertisements will earn the top spots. Given all the buzz surrounding the game, the Denterlein digital team thought we'd leverage our media monitoring and measurement tools to track key conversations and topics of interest.
Using TrendKite, we analyzed general topics surrounding the Super Bowl as well as mentions of specific figures, companies, or products to pull some data around what the US media was talking about before, during, and after the Big Game. Here are some of our findings:
Total Earned Media Mentions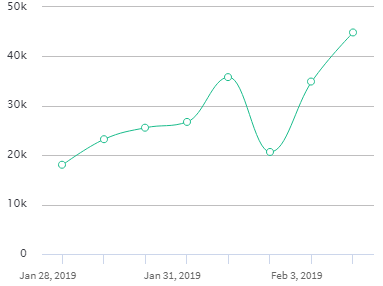 Buzz around the Super Bowl steadily grew throughout the week leading up to the game, swiftly dropped on the day before (Saturday, February 2), and then exploded on Sunday morning and into Monday, February 4, as expected.
Mentions of the Super Bowl started just under 20K on Monday, January 28, and spiked on Friday, February 1 at roughly 35K mentions, and then dropped again to 20K the Saturday before the game. The morning of the event, mentions were already trending back upward, and would hit their peak at 45K as of Monday morning, totaling 44.8K earned media mentions during the 4-day period that can be considered "Super Bowl Weekend".


Top Results/Mentions by Topic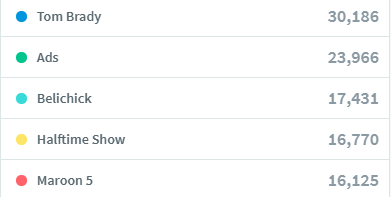 The three main topics of discussion are typically the same for every Super Bowl: the key players and coaches from each team, the commercials, and the halftime show. Seeing advertisements getting more attention than the halftime show provides us with an understanding of what better entertained viewers who were watching the Super Bowl for something other than the game itself. The commercials rather than Maroon 5's dull performance were this year's clear winners on that front.


Top Player Mentions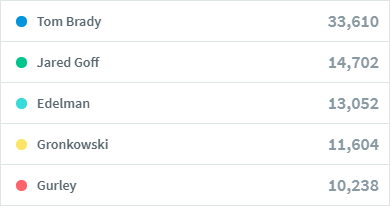 When looking at the players who participated in the game, our lord and savior Tom Brady holds the number one spot by a landslide. Behind him is Ram's quarterback Jared Goff, followed by Julian Edelman, Rob Gronkowski, and Todd Gurley, respectively. Brady saw more than twice the total mentions of his rival quarterback, while Julian Edelman winning Super Bowl MVP explains his boost in mentions vs. other positional players. We anticipate these rankings would have been shifted had there been a different outcome.


Other Notable Mentions


"Defense" ranked #6, whereas "Offense" ranked #7, pointing to the defensive domination by the patriots vs. the complete lack of offense on both sides.
"Belichick" had 16.7K mentions, while "McVay" had 12.2K; as always, experience trumps youth!


Some of the most eye-opening insights came from the data surrounding the in-game advertisements, where companies nation-wide paid top dollar to earn a chance to stand out among a crowd of brands. The top advertisers are classified by following industries: food and beverage, wireless communications/tech, and automotive.


Top Advertising Mentions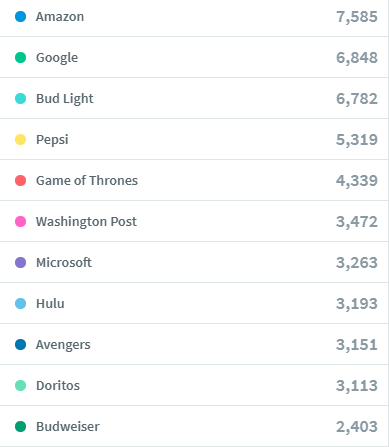 Takeaways


Amazon earned the most media coverage with 7.8K mentions. Followed closely by Google with 6.8K. This is Amazon's fourth time participating as a Super Bowl advertiser, and their 2019 commercial featured the Alexa integrations that were left on the cutting-room floor, whereas Google opted to take a more emotional approach with their ad in promoting the human benefits of its services. This is not to say the audience did not resonate with Google's ad, but perhaps the celebrity appearances and humor in Amazon's ad was what made it more popular.
Hulu took the lead as most-mentioned streaming service, thanks to it's the Handmaid's Tale season three promo, which garnered 3.1K media mentions. The broader coverage could be because of the women in a leading role, or viewers looking for a new television series to watch or staying with same television network to sample other shows.
Second in streaming-services was HBO, receiving 1.9K mentions, who partnered with Bud Light to tease the last season of Game of Thrones. Although the ad did not have high HBO mentions, it did generate a high number of Bud Light mentions. The ads plot could have come as a surprise to some Super Bowl audiences because they are usually accustomed to lighthearted and funny ads from the beer company, according to the Wall Street Journal.
Similarly, 2019 appears to be another year of the two chip brands not only going head to head with their Super Bowl ads, but with large sales during the big game weekend. With 3.1K media mentions, Doritos was the most-mentioned food brand. Pringles came in second with 1.3K mentions. Most notably with the celebrity appearances, the Doritos ad recruited Chance the Rapper and the Backstreet Boys to showcase their new Flamin' Hot Nacho chips, which may be the reason for the larger media mentions.
Drinks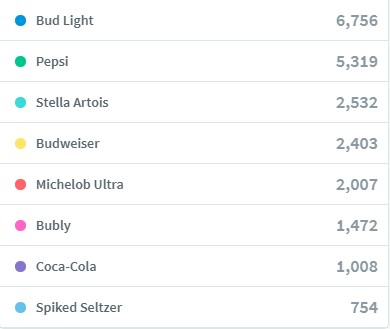 Bud Light was the most-mentioned beverage brand during the Super Bowl with about 6.7K mentions (Pepsi was second with 5.3K). Bud Light's high mentions could result from either of their two commercials – one of which resonated well with audiences, the other of which did not. One commercial partnered with Game of Thrones, and the cross-promotion appeared beneficial to both parties. The other Bud Light commercial attacked rival competitors for using corn syrup in their beers, a statement that upset American corn farmers and created a small controversy on social media. Whatever the sentiment around their high mentions, Bud Light succeeded in having their Super Bowl commercials create a buzz around their brand – there media mentions more than doubled their competitor, Stella Artois.
Coca Cola, which is typically well-known for spending top dollar on creative commercials, fell behind other advertisers such as Pepsi and Bubly. When we investigated these numbers, we discovered it was because this year was the first in 10 years that Coca Cola did not run an advertisement during the Game. Rather, they ran their commercial before the National Anthem.
Wireless Carriers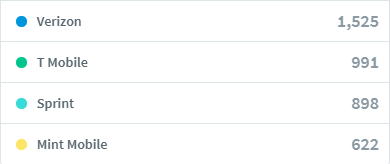 Verizon was the most most-mentioned carrier brand, with about 1K media mentions. In second place was T Mobile, with 769 mentions. And among the slew of large wireless providers, it was encouraging to see Mint Mobile gain enough mentions and notoriety to appear on the list, which could be because of their unforgettable "chunky milk" commercial.


Automobiles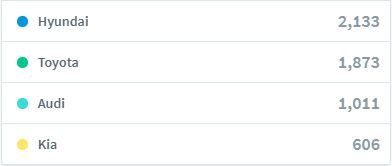 It is interesting and insightful to see Hyundai and Toyota gain much larger mentions than Audi and Kia, especially since both Audi and Kia spent similar dollars for a 1:30 advertising slot. Toyota ran two separate minute-long commercials, one of which focused on Antoinette "Toni" Harris, a 22-year-old Detroit woman who is the first female to be offered a college football scholarship to play on a regular defensive team. It seemed like Kia and Audi focused their advertisements more on emotion. Whereas Hyndai's "The Elevator" was more humorous in nature, which received more popularity. Based on the volume of earned media mentions of all four companies, it appears that Hyundai and Toyota's investments in production, placement, and message paid off and generated a larger buzz.


Targeting Female Fans


Aside from direct mentions of commercials and companies, Denterlein's digital team also looked to see if any particular themes arose across the entire Super Bowl broadcast. One finding was the large number of mentions of the word "women". When searched as a Key Message, "women" ranked at #2 with 7.1K media mentions - one spot behind Amazon and one ahead of Google. We believe this high ranking is related to a broadcast that featured many female-centered dimensions: The combination of Chloe & Halle and Gladys Knight singing America the Beautiful and the Star-Spangled Banner, a large number of female icons featured in advertisements, and the prominence of female-centric commercials such as Olay and Bumble. In a national broadcast of an NFL game – a sport largely associated with masculinity and ferocity - the inclusion and participation of female empowerment shows that brands of all kinds are rethinking their target audience and key messages when participating in the Super Bowl and beyond.


By Alex Boonstra, Account Executive & Merina Zeller, Account Executive